Supplements That Heal Cavities
Posted on 5/9/2022 by Dr. Christianne Lee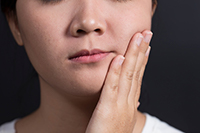 As long as your body has the right nutrients it can naturally repair any damage, including in the mouth. Dietary supplements can help heal cavities naturally. Diet alone can provide enough nutrition, but many people would benefit from supplements. Cavities are not a result of just one sugary meal. Conditions such as oral microbiome, diet, saliva quality, and your mouth's pH may result in a "perfect storm" that leads to cavities. Bacteria in the mouth combine with proteins in saliva and food particles to form plaque. Sugar molecules found in foods such as processed carbs are then used by the bacteria to produce acids. Too long in the same area causes these acid attacks to break down the calcium in the tooth's enamel. Eventually, this leads to holes in the tooth structure and tooth decay in the dentin and enamel layers.


Healing Cavities

There would be no acid excretion if sugars, carbs, phytic acid, and other cavity-causing substances didn't exist. By getting nutrition and supplements that promote remineralization, you can stop, reverse, and prevent cavities. The process of demineralization should be reversed, which deposits nutrients back into your teeth. Foods and supplements rich in minerals, like calcium and magnesium, help to rebuild the damaged outer surfaces of your teeth. Those nutrients are distributed throughout your body, so your teeth get the support they need to grow strong and healthy.


The Best Diet to Reverse Cavities

Get rid of sugar and carbohydrates. Cavity-forming bacteria love them. Get enough fat-soluble vitamins. Get your vitamins A, D, and E. Vitamin K2 is particularly important. It helps keep your teeth healthy. Together, vitamins A and D, and K2 help to form, grow, and remineralize teeth. Make sure you get enough minerals like calcium, magnesium, and phosphorus. Your teeth absorb these minerals to rebuild themselves. Phosphoric acid, found mainly in seeds, beans, and grains, prevents nutrients from being absorbed, especially calcium. You can reduce phytic acid content by soaking and sprouting these foods. No matter how well you eat, it's difficult to get all the vitamins, minerals, and nutrients your body needs to remineralize. You can heal cavities naturally with supplements like calcium, vitamin D3, vitamin K2, vitamin A, magnesium, and oral probiotics.