4 Best Ways to Keep Your Gums Healthy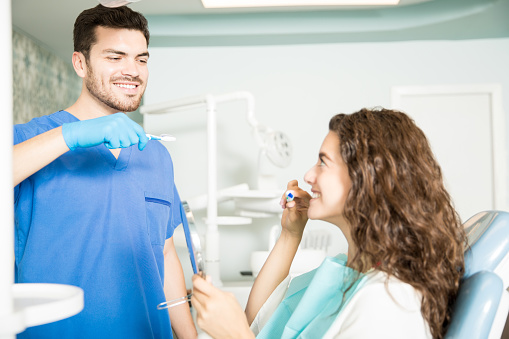 Gums are the foundation of our teeth. When we have healthy gums, our teeth receive the support and nutrients that they need from the gum tissues. This is why having unhealthy gums can be the start of several dental conditions like gingivitis, sensitivity, and tooth decay.

Unhealthy, bleeding, or receding gums expose our teeth to bacteria and infections. Therefore, it is vital that we start our oral health by keeping our gums healthy.


Regular Flossing

Many people don't consider flossing an essential part of their oral care routine. They think that just brushing twice a day is sufficient for keeping mouth diseases and dental conditions like plaque, tartar, and cavities at bay. However, this is not true. Flossing once a day, especially before going to bed, is just as important as brushing twice a day. Your toothbrush only cleans the surface of your teeth. Flossing removes food debris and plaque from in between the teeth. Regular flossing protects the gums from plaque formation and bacterial infections.


Brushing Twice a Day

Oral care begins with brushing regularly, twice a day. For some patients, dentists recommend brushing after every meal, depending on the condition and health of their teeth and gums. When you brush your teeth, the food debris and plaque that gets trapped in the gaps of the teeth and in the pits of the molars get removed. Brushing the teeth also washes away the acid-causing bacteria that rest on the tongue, teeth, and gums. This is why you must brush your tongue too. Regular brushing for 2 minutes each time can help eliminate disease-causing bacteria.


Using Fluoride Toothpaste

Fluoride is a naturally occurring mineral in food and hard water. It is one of the essential minerals that is needed to form strong enamel and keep the gums healthy. Fluoride toothpaste that contains 1,350 to 1,500ppm of fluoride is found to be effective for periodontitis and healthy enamel development.


Eating Dairy Products

According to the American Academy of Periodontology, those who regularly consume dairy products like milk, yogurt, and cheese have healthier gums and lower instances of gum diseases. Dairy products contain calcium and good bacteria that help fight infection-causing bacteria and viruses.

For more information on healthy gums, give us a call at (949) 656-2933 and speak to our doctors.