Do You Clench Your Teeth When Playing on Your Phone?
Irvine, CA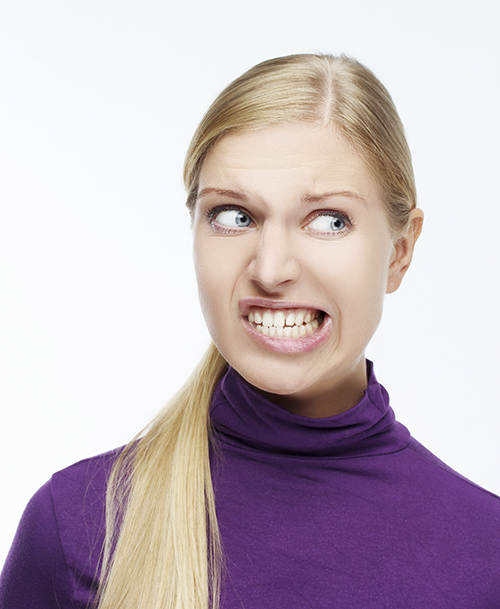 It is very common for people to grind their teeth or clench their jaws at night. But many people also exhibit these behaviors while they are awake, often without even realizing it. This is a condition known as awake bruxism or daytime bruxism (as opposed to sleep bruxism), and it can occur due to stress, a misaligned bite, or even during deep concentration – such as while you are playing a game on your phone. Read on to learn more about the causes and symptoms of daytime bruxism, and how it can be treated.


Causes of Daytime Bruxism

The most common causes of daytime teeth grinding or clenching are emotional factors like stress, anxiety, and frustration. Whether you have generalized anxiety or you work in a high-stress career, these emotions could cause you to subconsciously grind your teeth or clench your jaw during the day. Even short-term periods of stress or tension, such as commuting through traffic or watching a stressful scene in a movie, can cause awake bruxism in some people. If you experience stress and anxiety, you should talk to your primary care doctor about ways to reduce these feelings.

For others, teeth grinding or clenching is a subconscious response to activities that require deep concentration, such as doing a craft project or playing a game on your phone. Awake bruxism can also be the result of uneven teeth or a misaligned bite. If this is the case, we can discuss treatment options that can help align your bite and reduce your bruxism symptoms.


Ways to Know if You Grind Your Teeth

You are probably wondering: if awake bruxism is often subconscious, how will I know if I grind or clench my teeth during the day? Both awake and sleep bruxism can cause symptoms such as headaches, jaw pain, facial soreness or tiredness, TMJ disorders, and damage to your teeth or orthodontic work. If you experience any of these symptoms, call our office to set up an appointment.

If you would like to fix this issue, do not hesitate to contact our office at (949) 656-2933 to schedule an appointment today!

For more information explore the links to learn more and learn about services we offer!
Dental Crown
Night Mouth Guard
Dental Exam