Learning the Truth about Wisdom Teeth
Irvine, CA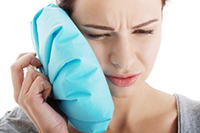 The wisdom teeth are a third set of morals at the back of our mouths. Wisdom teeth have been associated with problems for a long time, with of wisdom teeth extraction being a common procedure. Whereas it's possible for wisdom teeth to cause oral health complications, such outcomes are not certainties. Our team can monitor our patients' wisdom teeth and suggest a course of action that is best for their oral health.


Origin of Wisdom Teeth

Our ancestors used wisdom teeth to grind plant foods. Wisdom teeth compensated for humans' inability to digest cellulose. As agriculture altered our civilizations' diets, our heads and jaws evolved to render wisdom teeth vestigial. Some people grow up with no wisdom teeth at all; most dental x-rays can confirm the presence or absence of wisdom teeth. The term "wisdom teeth" refers to the age when the teeth typically emerge: when the patient is between 17 and 21 years old.


Why Our Team Removes Wisdom Teeth

When wisdom teeth become impacted, they cause pressure on the neighboring teeth, causing problems such as pain and tooth damage. Alternately, a wisdom tooth could fail to emerge properly, leaving a hole in the gum that is vulnerable to bacterial infection and cavities. And there are instances where wisdom teeth are removed as a precautionary measure to prevent potential problems when the patient is older.

When less intrusive measures are ineffective at solving these problems, our team recommends removing the wisdom teeth. The wisdom teeth are removed via a minor surgical procedure during which the patient is placed under local anesthesia. The patient typically recovers from the minor surgery within five days.

If you have questions about your wisdom teeth, or if your wisdom teeth are causing you pain or discomfort, call our office at (949) 656-2933 for a dental exam or a consultation.