Is Fruit Juice Good For A Child's Teeth?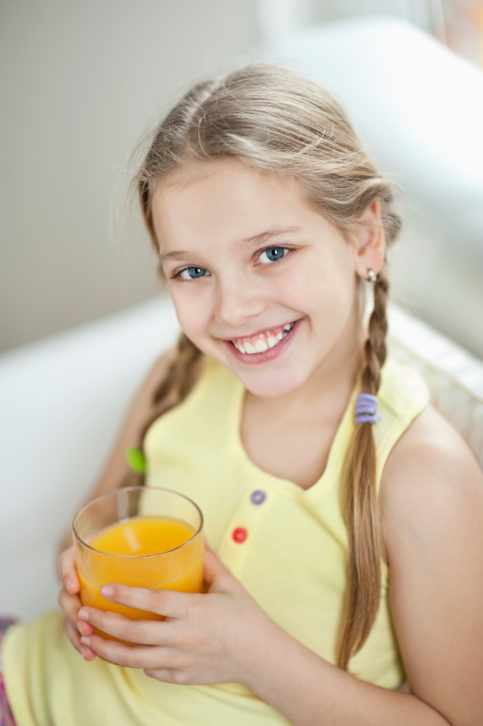 Fruit juice is frequently considered a nutritious way to give kids the necessary vitamins. Even fruit juice that has not been sweetened is still loaded with sugars that can harm your kid teeth. Our children's dentists explain their recommendations against giving kids fruit juice. Fruit juices can be just as bad for your child's teeth as pop, even though some fruit juices may be more nutritious than soda. Apple juice can severely harm your child's teeth because it has almost as much sugar as a glass of cola.


Why sugar is bad for kids' teeth

When your child drinks something sweet, the bacteria in his or her mouth reacts with the sugar to make a mild acid. The acid can then break down the enamel on your child's teeth, leading to tooth decay and cavities.


Natural Sugar is Still Sugar

Sugars are found in many healthy foods and drinks, like milk and fruit. All sugars will mix with the bacteria in your child's mouth, whether from natural sources (like fruit) or made in a lab. So, even though the unsweetened fruit juice has no added sugar, it's still full of natural sugars that can cause tooth decay.


Fruit acids can hurt your teeth.

Even though sugars are very bad for your kid's teeth, it is not only the problem with juices. Fruit juices contain natural acids, which can erode your baby's dental enamel, as much as sugar.


Fruit juice isn't that good for you.

Children's teeth and bodies are hurt by the sugars and acids in fruit juices much more than they are helped by the few nutrients they may get from drinking juice. Regarding nutrition, an apple is always better than a glass of apple juice, and thirsty kids should always drink water.

Visit our practices for more information on the impacts of sugars on children's dental health and checkups.